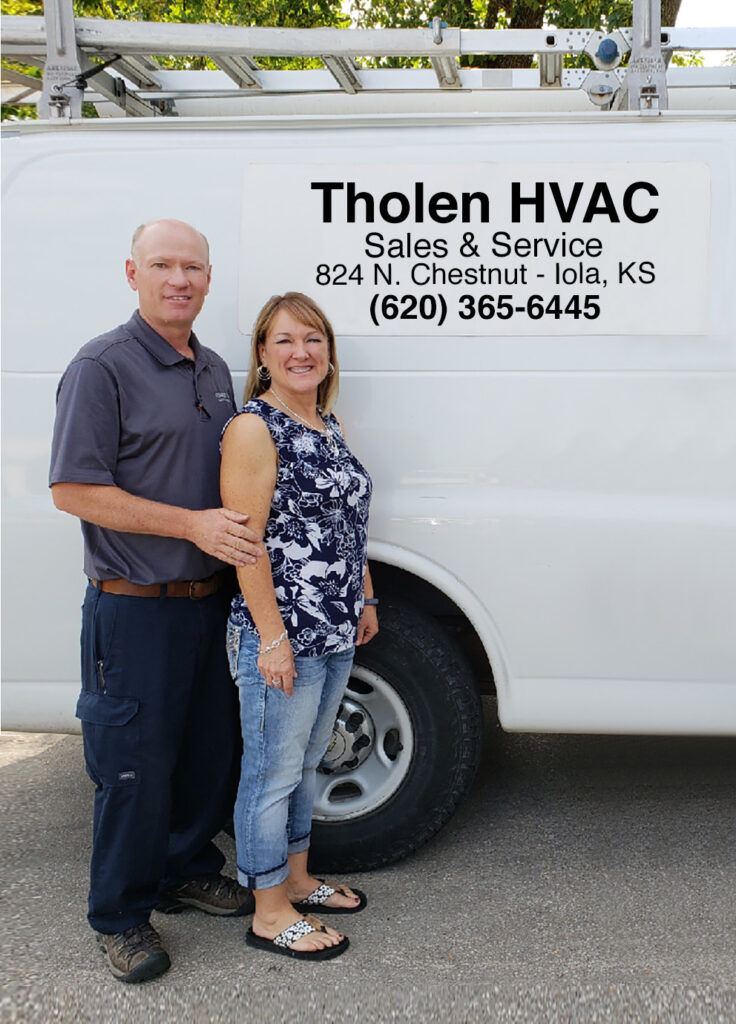 Long History
Tholen's was started by Jim & Vickie Tholen in 1978. For almost 40 years, they built a solid reputation as Iola's most trusted HVAC service company and were committed to providing quality service to the community.
In July 2018, after 40 years of serving the community, Jim and Vickie sold the business to Kendal & Teresa Catt. Kendal had been apart of the Tholen's Heating & Cooling family for over 22 years before taking ownership.
Bright Future
Kendal and Teresa will continue to provide the same honest and reliable workmanship that Tholen's has been known for over the years. "We believe that good quality workmanship, honest and reliable service technicians, and excellent service after the sale is the recipe for success."
To ensure that our technicians are able to provide the best service and product knowledge to our customers, we hold monthly training sessions at our shop. We also have representatives from our product lines come in and give our technicians the most current training available for their equipment and products.
With their focus on quality workmanship, great customer service, and knowledge of the industry, Kendal and Teresa have big plans for the future!
What To Expect
Your home or business is likely your largest investment, but repairs can quickly make owning a home or business complicated and stressful. We are here to help you navigate those problems, and we work hard to offer home and business owners, like you, a consistently great experience so you can get back to doing the things that matter most.
Schedule A Service
To schedule a service. you can call the office, send us a detailed email, or fill out one of our service request forms. We are here to help you 24/7.
Understand The Problem & Choose A Solution
Our team will get back with you as quick as we can to offer you our extended knowledge about your personalized problem, and provide a solution.
Experience A Job Well Done
Our professional and experienced staff will get you fixed up and on your way! Let us know how we did by leaving us some feedback!
Contact Us Today!
Need a service? Fill out this form to let us know how we can help you! It only takes a few minutes, or call 620-365-6445 to speak with us directly.